Milligram to gram scale production
---
MImAbs produces antibodies at the 100mg-scale, and will soon open a gram-scale bioproduction unit. Antibodies are purified and quality-controlled before handing back to a client or down to MImAbs' immunopharmacology unit for functional testing.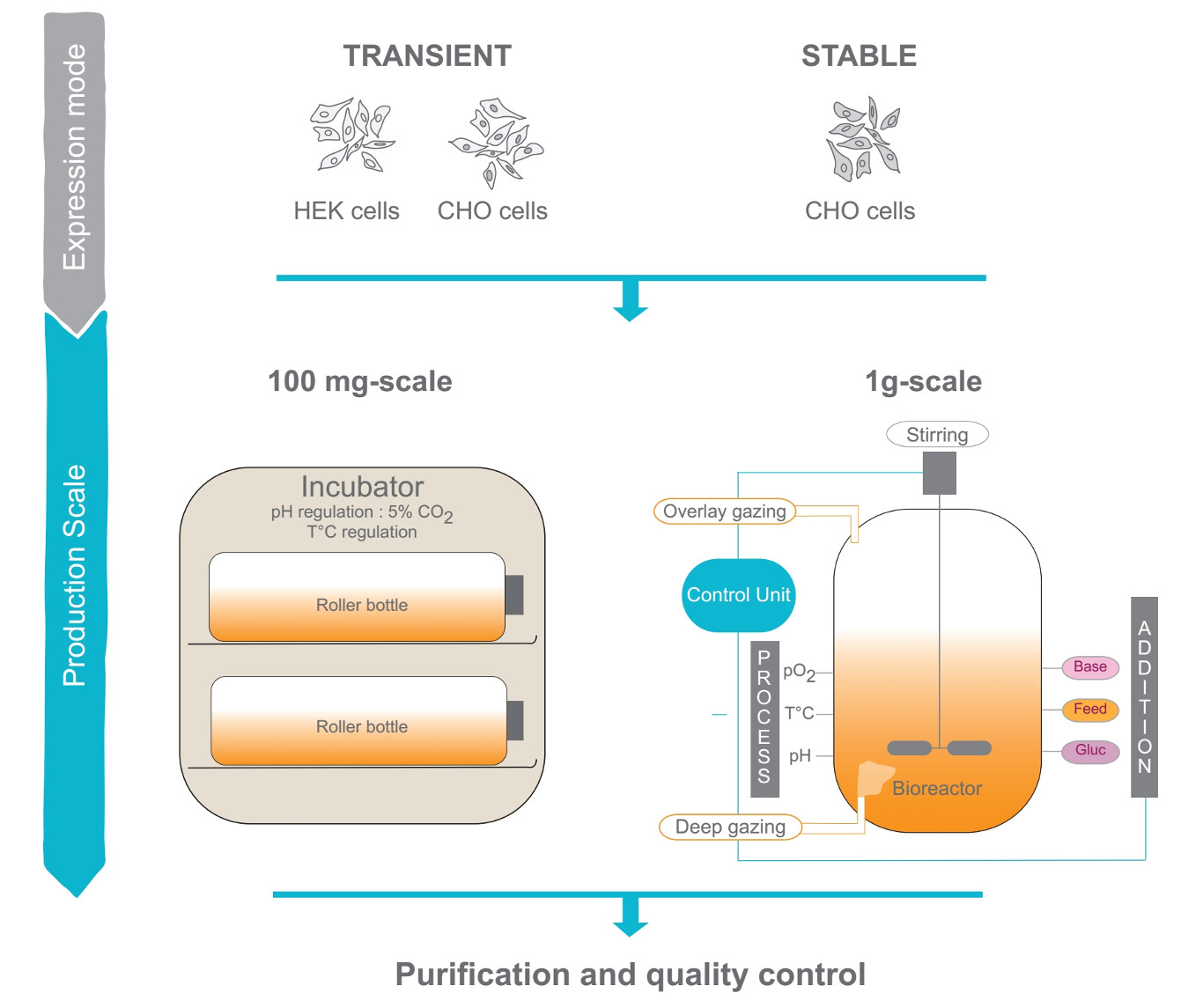 MImAbs offers two different antibody expression modes:
Transient expression in HEK or CHO cells for rapid, one-shot production (1-2 weeks). Transient expression is usually sufficient in the initial stages of the development of an antibody.
Stable expression in CHO cell lines if repeated production cycles are required. This system can take up to 3 months from transfection to collection, but produces larger quantities of antibody.
MImAbs works at early stages towards a smooth transition between transient and stable expression systems to ensure the developability of candidate antibodies.
MImAbs produces antibodies from 1mg up to 400mg; the scale chosen depends on downstream applications:
In vitro studies require 1-2mg of antibody. Cells are grown in 25mL Cultiflasks and incubated in a Sartorius Certomat CT shaking incubator. MImAbs can produce up to 30 antibodies in parallel at this scale within 2 weeks time.
In vivo studies require up to 400mg, for which cells are grown in roller bottles in a volume of up to 5-6L. Under transient expression, 5 to 8 antibodies are produced in parallel at this scale within 8 weeks; under stable expression, 2 antibodies are produced in 12 days.
MImAbs will shortly open a bioproduction unit to offer gram-scale antibody production.
Standard bioproduction process in bioreactors.

Contact us for more information.
Antibodies are purified by affinity chromatography. They are formulated in either PBS or another buffer as required. The antibodies are characterized and quality-controlled to determine the parameters below:
| | |
| --- | --- |
| Parameter | Measurement Technique |
| Concentration | UV absorbance at 280nm |
| Molecular weight | Mass spectrometry (Xevo G2S-QTof, Waters) |
| Level of monomer purity | SEC-UPLC (UPLC Class Bio, Waters) |
| Long term stability & formulation | Mass spectrometry (Xevo G2S-QTof, Waters) |
| Aggregation/cleavage | SDS-PAGE |
| Endotoxin level | Kinetic Chromogenic LAL Test |
The results of these analyses are compiled in a deliverable Certificate of Analysis.
Determination of the Ab Tm by thermal shift assay (TSA) in the Ab formulation buffer (PBS 1X, pH 7,2- 7,4)
Determination of the accelerated thermal stability of the Abs by incubation at 40°C for 4 weeks followed by SEC_UPLC analysis
Early-stage characterization is performed on purified antibodies after small-scale production:
Soluble target: determination of the KD (Octet RED96, PALL ForteBIO)
Membrane targets: determination of the EC50/apparent KD (FACS)
Functional tests are then performed in the in vitro pharmacology platform.